By Holly Sosa
This shop has been compensated by Collective Bias, Inc. and its advertiser. All opinions are mine alone. #MyGo2Pen #CollectiveBias
A fresh pack of erasers, packages of lined paper neatly hole punched for binders, the familiar scent of hand sanitizer. They can all only mean one thing: back to school season is here. As a planner addict who has always had a weird need to hoard all the school and paper supplies, it's one of my most favorite times of the year. It's also the perfect excuse to freshen up and update my planner to reflect all the new schedules and incoming information for the new school year. As a professional planner addict, I have years of experience and it's my hope that these tips will help you to set up your planner for back to school season.
Add the school calendar
The first thing I do every school year is add the school calendar into my planner. If my planner has a yearly view, it's easy to utilize that. I use different colored pens or highlighters to note days off and minimum days. Some planners don't have yearly views and that's fine. It's simple enough to print out the calendar from the school, laminate it, and insert it into my planner.
Use laminated lists for monthly tasks
I'm often forgetful, which doesn't bode well for the school year. To help me keep track of monthly, weekly, and even daily tasks, I create lists and laminate them. These handy lists are easily inserted into my planner for reference throughout the school year. I can remind myself of monthly haircuts, fundraisers, and even meetings with these handy lists.
Don't forget minimum days
My kid's have a minimum (half day) day every week. If I don't write it down, I often forget. Especially on days when their after school club doesn't meet up. I've been called by the office once with a gentle reminder that it was a minimum day and that my boys were waiting for me. Whoops! Since then, I've added minimum days into my planner every month.
Add teacher and school contact info
I can't tell you how many times jotting this down into my planner has been useful. Yes, I usually put it into my phone as well, but having it in my planner is beneficial for a variety of reasons: dead phone at the doctor's office (yes, this has happened to me), at work and needing to shoot an email to teachers, and simply for easy access.
Set aside time daily for homework
My planner is helpful in allowing me to physically see and map out my time each day. Since I work from home, it's important that I utilize my time effectively and with discipline. With all of my kiddos in school this year, that means setting aside time to help them with homework. I make sure I physically add homework time into my planner so that I'll be able to note that throughout my work day when I'm working through my to do list.
Get a fantastic set of pens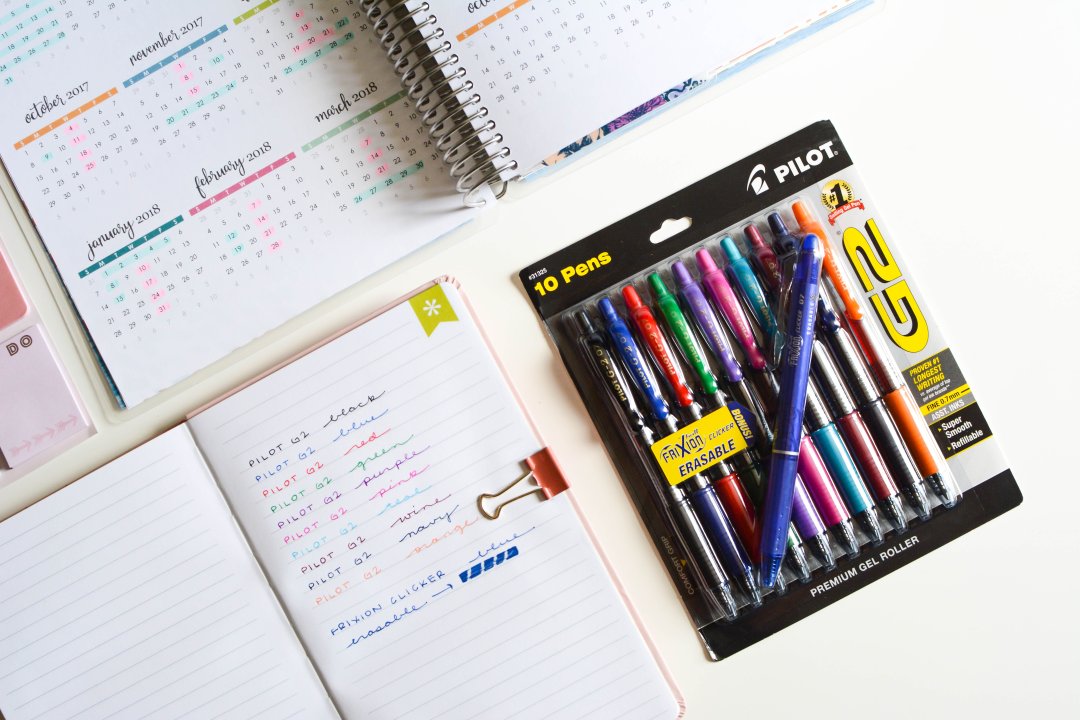 In the planner world, it doesn't get much better than the Pilot G2 pens, which should make it no surprise to learn that they're the number one selling pen brand in America. They don't bleed through paper, come in four point sizes, and offer a variety of vibrant colors, which is a planner babe's dream come true. We like to color code. Like, a lot! I use my Pilot G2 pens for everything and treat myself to a fresh new pack every year. When those school supplies come out at Walmart, it's my own personal version of utopia. I wander down aisle after aisle of pretty folders, fresh notebooks begging to be written in, and of course fresh packages of my beloved Pilot G2 pens. Yes, I get specific about my pens, friends. When you love paper as much as I do, you get serious about the pens you use.
My fellow planner addicts often experiment with pen tests and share the results so others can see how the pens actually hold up in real life. I completed my own pen test with my new set of Pilot G2 pens and they didn't disappoint me. Though, I wasn't surprised. They're always so smooth and colorful!
My paper planner gets me through life, but I'd never make it out of the school year alive without my trusty sidekick that helps me to keep our family's lives together. That's why I take setting it up for the school year seriously and update it frequently. Using my paper planner has helped me to keep it all together, even when I'm feeling like I'm busting open at the seams. There's no limit to what I can do when armed with my planner and a set of Pilot G2 pens.
For more back to school inspiration from bloggers like me, be sure to check out the #MyGo2Pen hashtag where you'll find tips, tricks, and tutorials
The post How to Set Up Your Planner for Back to School + a Pilot G2 Pen Test appeared first on Our Holly Days.