By Holly Sosa
This shop has been compensated by Collective Bias, Inc. and its advertiser. All opinions are mine alone. #UltimatePitStop #CollectiveBias
My oldest boy and youngest daughter are three years apart, which doesn't seem like a large age gap, but for kids it's all about that older/younger mentality. Finding ways for my video game loving son to connect with and mentor his stuffed animal loving little sister is sometimes a struggle, but lately they're both buzzing about the new Disney•Pixar's Cars 3 movie coming out this summer. My boy grew up with McQueen and his friends, racing around the house in his push along McQueen toy at just two years old. I love that Lightning and his friends have not only been a presence in my son's life, but now he can connect with his little sister through the new movie and toys that bridge their age gap.
When they received the new Disney•Pixar Cars 3 LEGO Juniors Thunder Hollow Crazy 8 Race Building Kit from Amazon, both of them were practically bursting to put it together…together. The set features an easy to build Miss Fritter road sign with moveable barriers (Collin had fun with this down farther in the post). Lightning McQueen, Cruz Ramirez, Miss Fritter, and Broadside are all included as well and are packaged in their own bags for simple assembly. Collin, my oldest boy, took charge and delegated tasks to his little sister. He mentored her through the step by step instructions as they worked together on the LEGO Juniors set until they had completed each character. The new movie has a focus on the theme of mentorship, which made this all the more fun to witness.
A drag race track
As they worked together on their project, I watched on happily, and pulled out some tape to start creating a few racetracks for them to play on with their completed sets. The first track was a simple straight line so they could take turns pushing their characters as fast as they could. I timed each race and McQueen (Evelyn) was always victorious.
A square track
The square track spanned across our dining room table and gave them a large area to play in together. I loved watching them get creative with race order and ideas.
A demolition derby track
We used the square track as boundaries for our demolition derby track inspired by the new Cars 3 movie. Collin and Miss Fritter had a blast bursting through the billboard.
Watching my kiddos play and get creative together is one of my favorite parts of being a mom. When they find common ground and interests that they can connect on gives them a bond that will carry them through their lives.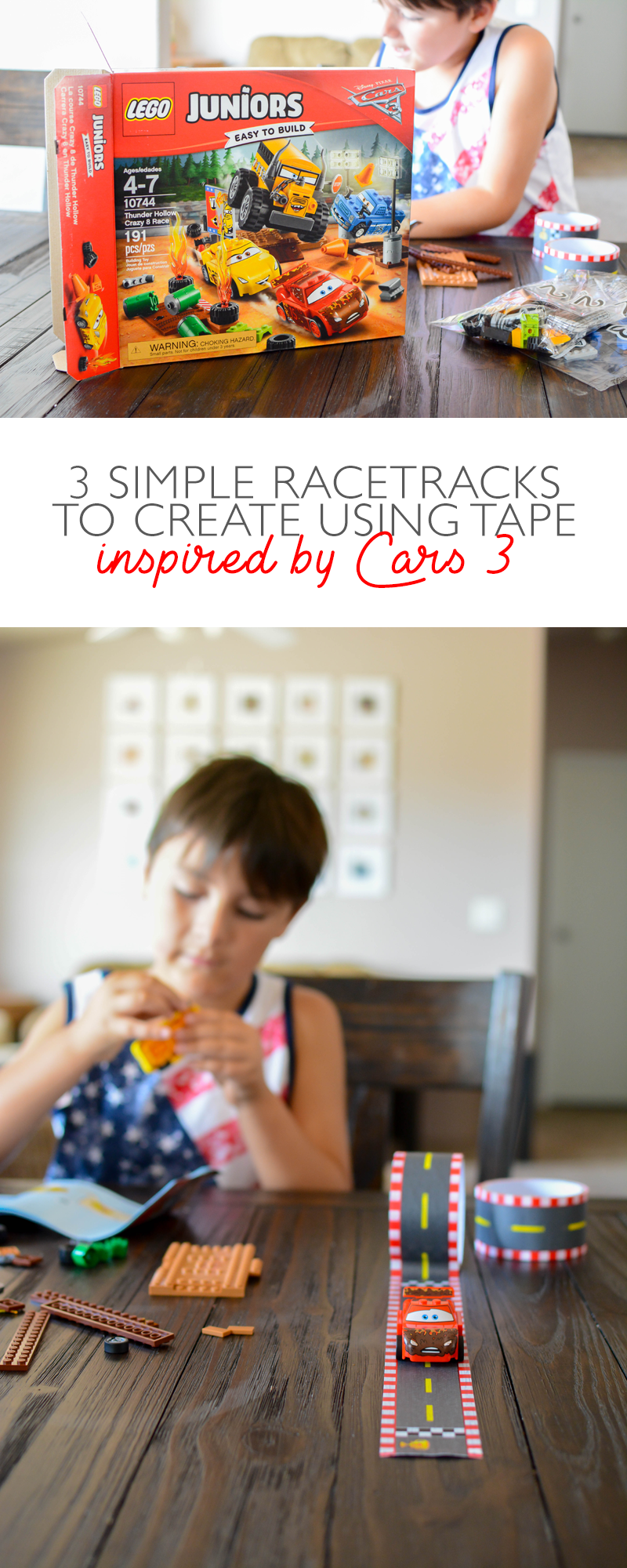 The Ultimate Pit Stop for all things Cars 3, including the set played with in this post, is Amazon. Visit the site for all things McQueen and Miss Fritter to foster creativity and mentorship in your kiddos.

The post 3 Simple Race Tracks to Create Using Tape appeared first on Our Holly Days.